PLEASE READ THE FOLLOWING PRINT GUIDE BEFORE SUBMITTING YOUR DESIGN FOR PRINT
Please provide artwork in the following specs:

1. Each colour layer separated and saved as a separate file
2. Resolution = 300-600dpi | Size = A3
3. Please ensure that your design is within the printable area of the A3 (400x277 mm). Riso cannot print full bleed A3.
4. Export as Greyscale
5. Flattened PDF (no layers or transparencies)

*Please include a mockup of what your artwork should look like when all layers are combined! We won't print until we receive this.
Do you want us to set up your files for you? We charge 250DKK per hour for file setup and will provide you with a digital proof of your artwork before starting the run.
Please note that we need your final print files before we can set a date for the finished product.
PAPER SIZE: A3 & FULL BLEED
The Riso prints on A3 paper (420 x 297 mm). However, it cannot print to the edge of the paper (full bleed). Please make sure that your design is no bigger than the max printable area, which is 400 x 277 mm.
FLYERS, CARDS & OTHER SMALL THINGS
The Riso inks are non-toxic and rice - and soy oil based. They require a bit of time to dry. The ink actually sits on top of the paper, which is also why there's a chance of smudging if you handle the print too much (like newspaper). This won't be an issue if you handle your prints with a bit of care. You can use a rubber to remove tire marks or unwanted smudges.

Our current ink colours are:

Red (closest pantone colour is Warm Red U)
Blue (closest pantone colour is 3005 U)
Purple (closest pantone colour is 2685 U)
Black (closest pantone colour is Black U)
Yellow (closest pantone colour is Yellow U)
Fluorescent Pink (closest pantone colour is 806 U)
Fluorescent Yellow (closest pantone colour is 803 U)

The ink is translucent meaning that colours can be overlayed to create unique tones and colours! Just like with painting you can layer a yellow ink on top of a blue and create green. With different opacities you can create many different greens, blues and yellows just by printing with two colours yellow and blue ink. In this way you are given a third colour and so many nuances for free.

*The inks cannot be rendered 100% correctly digitally (especially our awesome fluorescent/neon colours!) so come by our studio and check out the spot colours for yourself or we can send you a colour chart by snail mail for 40 DKK (it covers our materials and postage).

Hot tip: Color overlay can be simulated by using multiply layer modes in Photoshop, Illustrator etc.

The Riso prints on a gradient of 10 to 100% coverage and all files are sent to the printer in grayscale. Playing with different opacities works great for Riso. We don't recommend 100% coverage on large areas as it will be difficult for the paper to absorb = long drying time and it might get stuck on the drum when printing.

Because the Riso was initially made for offices and not for art prints it will always come with a chance of irregularity and imperfection. This is a part of the appeal for us! Every print is unique. Riso in this way almost behaves human, these quirks are what makes every print interesting. This also means that smudging, uneven coverage when printing large areas of solid ink, (mis)registration meaning irregular overlap of colors, and tire marks are not issues, but something to keep in mind as part of the Riso's charm. The idea of riso printing is to create a finished product that seems hand-printed - not mass produced!

If you want to avoid white lines in your design from misregistration you can trap your layers in Illustrator.
The Riso can print photographs beautifully! The riso automatically creates a halftone bitmap pattern (Don't add the effect in Photoshop). In our humble opinion Riso works best with mid/high contrast photos. Try opening up the mid-tones.
Riso ink do not come in magenta and cyan, but by using Blue, Fluorescent Pink, Yellow, and Black, you can approximate CMYK for photographs or other full-color images. You can also substitute these inks and print your photograph in the spot colours you want.

When working with a CMYK file in Photoshop: open the Channels Menu and select Split Channels. This creates new grayscale files, one for each color channel from your template. Another option, if you have prepared your color separations in layers instead of channels, you can use the File > Export > Layers to Files function to split them into individual files. Then open each file, convert it to grayscale! :)

For text try to keep text and type above 6pt if you want solid and clear lines.

For text under 12pt set it to registration black (100/100/100/100). Over 12pt. use 100% Black (0/0/0/100).

Surfaces should overlap under lines (also called trapping).

Lines should not go below 0,25pt.

*Do not make text in Photoshop (it will print pixelated). Create it instead in Illustrator or InDesign*
Riso printers only eat uncoated paper :)

We stock uncoated paper from weights around 90 g/m2 to approx. 270 g/m2. Ask us what we currently have in stock, or might be able to order from one of our suppliers.

We currently use Metapaper and their paper Rough, Extrarough and Extrarough Recycling range. They come in the tones cold white, white, and warm white. As house pape we stock their warm white paper. Read more about Meta here. We can send you a paper sample of our house stock paper for 22 DKK (the price of postage) or you can pick one up for free at our studio.

We also have a few different options of coloured paper and can always order more colours in for you. It might sometimes be a better solution than printing large heavy ink background colours.
NB! The colour of the paper you choose will effect the colour of the inks.
If you're planning on making a zine or book please include a pdf mockup in reading order (or an illustration of the pages as they will be printed for reference).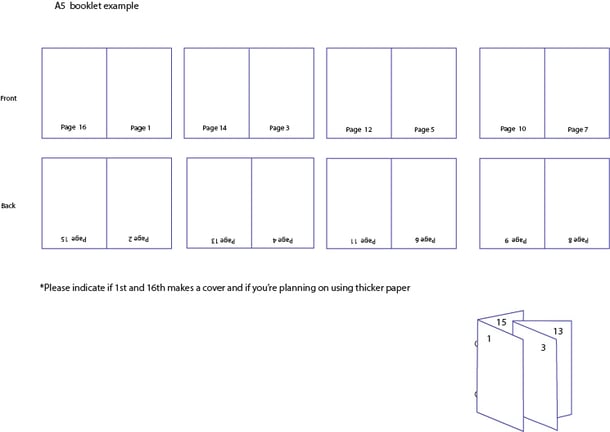 The Risograph is not perfect like laser - or inkjet printers. The inconsistent results are part of its charm and hand printed quality. Your prints will have print marks, especially if you have big areas with heavy ink coverage, use more than one colour or print double sided. Slight misregistration is part of what makes every print unique and why Riso is so loved by the art community.

The print will not look like it does on your computer screen. The Riso's unique spot colours are not identical with the closests pantone colours. On top of this the Riso inks are translucent. This means that the colour of the paper you print on also affects the tone of the colours on your final print as well as overlaying inks will create new tones or colours.
Expect reposts of your design on our SoMe channels as well as small cut-offs to be featured in our scrap note books as we try to minimize waste :)
As we are a small business we can't guarantee to have time for studio visits. We try to be as accomodating as our time allows for so feel free to reach out and write us an email for any enquiries.
If you would like a full-bleed poster we can of course trim it to full-bleed for you. If you would like us to cut off the white margin please add 4 mm bleed all around the art work while still fitting both design + bleed within the printable area. The cropped poster will approximately be 393 x 270 mm.

Do not add crop marks or other markers as they will only reduce the finished size of your poster or design since you would also have to fit them within the printable area. Due to slight misregistration you might also end up with crop marks in your final product. Instead tell us how big you want your final printed matter to be/how much you want us to trim off.
*Bleed is a few mm of your design that will be cut off to ensure that there are no white lines left after the trimming. Please do not leave any important information in the bleed area since they might be cut off when we trim your design to full bleed.
A3: 420 x 297 mm
Max printable area: 400 x 277 mm
A5: 210x148 mm + 4 mm bleed
Reduced A5: 171 x 121 mm + 4 mm bleed
A6: 148 X 105 MM + 4 MM BLEED
REDUCED A6: 121 X 820 MM + 4 MM BLEED
Templates for setting up you zine or book:
Birkedommervej 35
2400 Copenhagen
Denmark